When you select Character Manager from the Main Menu, you will have the following options:
Select Character
Create Character
Delete Character
Character List
Hall Of Records
Main Menu
Create Character Window
Click on picture for larger image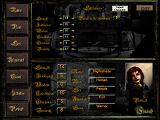 Click on Create Character, and the window above will appear. It is fairly self-explanatory. Once you have selected a Character Name, you choose the Race that you want the character to be. See the Race Statistics for more information.
The next step is to choose the Sex of your new character. Umm, only male or female allowed at this time (but it might change in the future).
Then on to choosing your Alignment. Good, Neutral and/or Evil are available depending upon your race.
Next is a section that shows you what Guilds the character is currently capable of joining (with the selected Race and Alignment). Yellow represent guilds your character can join given the selected race and alignment. Once you've made a choice (and returned to this section), the selected Guild will be shown in bold (and not slanted). Guilds that are in Grey represent those guilds that your selected race or alignment are not allowed to join. See the Guild Statistics for more information.
With some guilds, a starting character just doesn't have enough stat points to join (the requirements for stats are too high; you'll be informed of this when you try to select the guild) - the way to join these guilds is to create the character and run around as an Artisan (or another guild) until you find enough items to raise your stats to the minimum requirements of the guild. When you select a guild, the guild will automatically adjust your stats to the minimum required to enter and take you to the stats section.
The next step is your character's statistics. You can modify these by using the left (for remove) and right (for add) arrows on either side of the specific stat. The amount of extra 'points' you have to assign to your character's stats are shown to the right of the stats.
The last step is to choose your character picture and click on Finish.
You will then be taken back to the Main Menu where you can click Play Game and off you go.